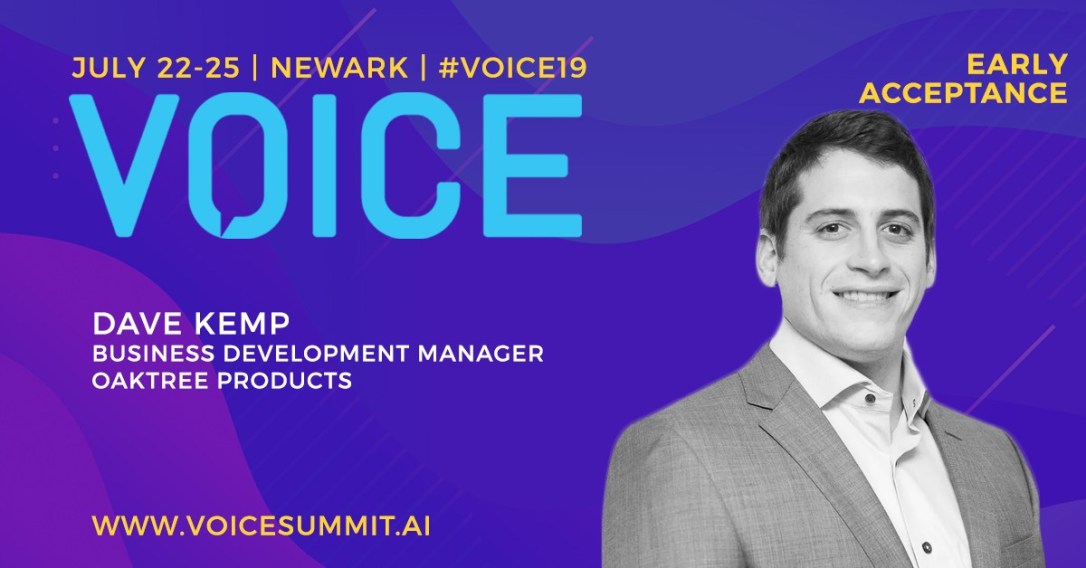 August 8, 2019
By Lisa Brandt (Voice Artist & Blogger at Witlingo)
---
Background:  As Business Development Manager with Oak Tree Products, Dave is on the cutting edge of technology developments in hearable devices, including hearing aids.  He writes the blog, FutureEar.co and publishes a  microcast called Future Ear Radio, available on Amazon Alexa as a skill and as a Flash Briefing and Google Assistant as a Google action.  He talked to Witlingo's resident hearing-aid-wearer, Lisa Brandt, about the exciting future of hearables.
Lisa Brandt: What drew your interest to hearables?
Dave Kemp: My parents started Oaktree Products when I was three years old (1992).  It's a distributor of clinical supplies and assistive listening devices that serves hearing healthcare professionals. I've been in and around this industry my whole life and have watched as in-the-ear devices evolved. When I started to work at Oaktree full time, Bluetooth hearing aids were beginning to proliferate en-masse, and start-up hearables companies (Bragi, NuHeara and Doppler) were emerging. I started to research what all these devices would be capable of in the short and mid-term.
LB:  Hearing loss certainly isn't obvious to others. Do you see hearables as one of the (or perhaps the) most important aspects of voice-first technology?
DK: What's interesting about voice-first to me, is that smart speakers are being adopted rapidly by older adults. Age tends to be the leading indicator of hearing loss for a multitude of age-related reasons, so while it's apparent that our aging populations enjoy smart assistant-enabled technology, one potential pitfall might be with the fact that they can't properly hear their assistant. By housing the smart assistant directly into the user's ear, I believe you alleviate this pitfall. I do see hearables being incredibly important broadly, and more specifically with our aging population (particularly when HIPAA compliance is broadly met and use cases such as medication reminders/instructions become available).
LB: I wear hearing aids and I'm younger than the typical wearer. Do you know how many Americans are affected by hearing loss?
DK:  You're certainly not alone there and I think you're smart to start treating your hearing loss early. On a side note, one of my highest hopes for hearables is that we'll move into a world where there will be all types of different hearable form factors (like we're seeing with AirPods and Power Beats Pro) and it will become so normalized to see people wearing these different devices in and around their ears, that the negative stigma that plagues hearing aids will start to fade. At a certain point, I believe it will be hard to tell what functions the devices people are even wearing, like how its hard to decipher who's wearing glasses for utility or fashion.
According to the National Center of Health Statistics, about 15% of American adults aged 18 and older have reported some trouble hearing properly. Based on calculations by the National Institute on Deafness and Other Communication Disorders, among adults aged 70 and older with hearing loss who could benefit from hearing aids, fewer than one in three (30 %) has ever used them. Even fewer adults aged 20 to 69 (approximately 16 %) who could benefit from wearing hearing aids have ever used them.
LB: My current hearing aids have Bluetooth so I can take phone calls through them, as well as having a remote and TV connectivity. What am I missing out on now and what is coming?
DK: One of my favorite Bluetooth hearing aid use cases is to use the app Tunity.  It lets you stream live television's audio directly to your hearing aids. Try it out at the airport, a bar, a gym, or a doctor's office – it's cool. Beyond streaming, there are some cool new use cases starting to emerge. Hearing Aid manufacturers almost all offer "companion apps" with their devices, and they're all in the process of building out various capabilities into those apps – such as remote fittings and remote care by professionals, machine learning based applications to make tuning adjustments on-the-fly, live-language translation, biometric data collection and hosting within the apps, smart assistant integration, and so-forth. I think people are going to be blown away with how capable our little ear-worn devices, hearing aids and consumer hearables, are going to start becoming in the next few years. 
LB: From your website: "the smart assistant will eventually be a person's personal nurse. Through voice analyzation they will be able to understand a person's state of health. Amazon has a patent based on Alexa being able to tell if a person is sick based on the inflection of their voice and it would prompt them to seek medical help." Aging in place is a big trend as people want to stay in their own homes as they age. Do you think these developments will help them achieve that?
DK:  Smart assistant-integrated hearing aids and hearables will be huge for aging in place and supporting our aging population in general. If we are able to provide a method of communicating with our technology that is on par with our smartphones, all through voice-activated devices, it will be incredibly empowering to older adults that might struggle with tap, touch and swipe, due to a depreciation in their dexterity, motor skills, and vision. I think voice assistants will be one of the saving graces to the massive wave of Baby Boomers that are all crossing into their retirement years.