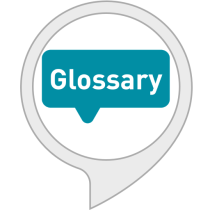 The below is a work in progress.  Please feel free to pitch in with your feedback via the form at the bottom of this page.  You can also listen to the voice version of the Glossary by enabling the Voice First Glossary Alexa Skill.
PS: When you get a chance, check out Castlingo. Order your very own Alexa micro-casting skill in minutes — and it's FREE!
---
Acoustic Model : A representation that maps "the relationship between an audio signal and the phonemes or other linguistic units that make up speech. The model is learned from a set of audio recordings and their corresponding transcripts. It is created by taking audio recordings of speech, and their text transcriptions, and using software to create statistical representations of the sounds that make up each word."
Adaptive System: A system that adapts its behavior to changing parameters, such as the user's identity, the time of day, day of week or month, the context of the interaction, etc.
Alexa: A cloud service that powers Amazon's family of Echo devices.  The service is also available to license by third party hardware and software providers using the Alexa Voice Service (AVS).
Alexa Skill: Software that third party developers build to add a new functionality to Alexa.  An Alexa skill is to Alexa what a mobile app is to the iOS or to the Android mobile platforms.  Developers use the Alexa Skills Kit to build Alexa skills, submit such skills to Amazon for certification, and upon certification and publication of the skills, enable end users of Alexa (through Echo products and products Alexa enabled through AVS) to discover and enable the skills from the Alexa Skills Store.
Alexa Skills Store: The market place where users of Alexa-enabled products may go to search for skills, and enable/disable skills.  The Alexa Skill Store is to Alexa skills what the App Store is to iOS apps and what Google Play is to Android apps.
Alexa Voice Service (AVS): A Software Development Kit (SDK) that enables hardware manufacturers and software developers to integrate Alexa to their hardware/software.  For instance, a manufacturer of a bluetooth speaker may add microphones to their speaker, use AVS, and then turn their once simple bluetooth speaker into an Echo like device. AVS was made generally available in June 2015.
Alexa Skills Kit (ASK): A Software Development Kit (SDK) that enables developers to build and launch an Alexa skill.  For instance, Uber, Starbucks, Meetup, and everyone who has published a  skill on the Alexa Skills Store used ASK to build and submit their skills. ASK was launched in June 2015.
Always Listening Device: A device that is always listening for a "wake word" and that sends the audio captured after the wake word has been detected for additional processing.
ASR: Automatic Speech Recognition, or Automatic Speech Recognizer.  Usually this refers to software that is able to take audio input and map that input to a word or a language utterance.
ASR Tuning: The activity of iteratively configuring the ASR software to better map, both in accuracy and in speed, the audio input to a word or an utterance.
Barge-in: The ability of the user to interrupt system prompts while those prompts are being played.  If barge-in is enabled in an application, then as soon as the user begins to speak, the system stops playing its prompt and begins processing the user's input.
Bixby: Samsung's voice assistant, launched in the United States in July 2017.