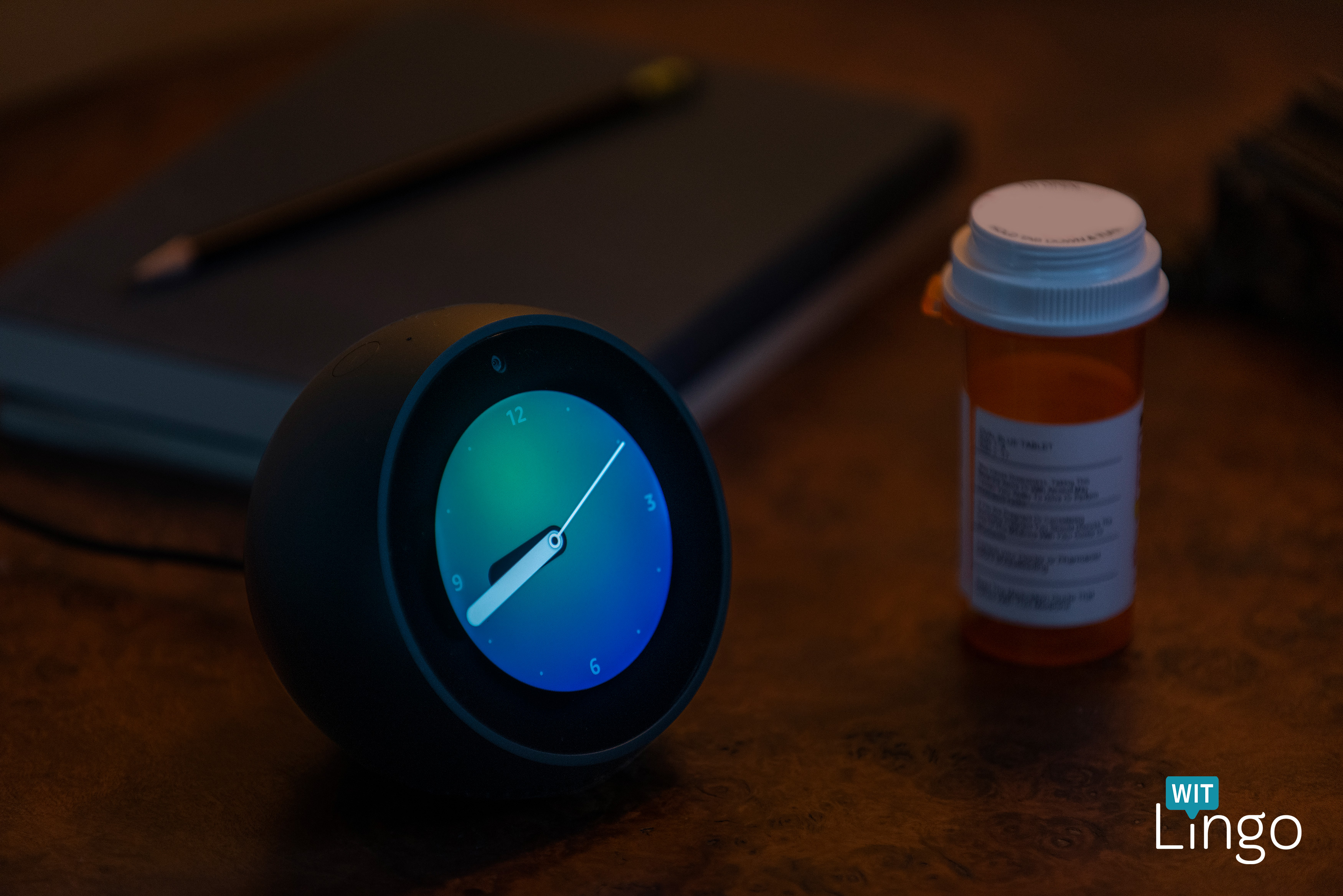 May 13, 2019
By Lisa Brandt (Voice Artist & Blogger at Witlingo)
---
Owning an Amazon Echo might be good for your health. Health care providers, hospitals, pharmacies – they're all exploring the viability of interacting with you via your smart speaker. Some saw the possibilities early on and they're creating templates for others to follow.
Amazon has been taking the temperature of health-related applications for quite some time. In late 2018, the company filed to patent an Alexa feature that would detect when a user had a cough or a cold. Alexa would suggest chicken soup, and if that's rejected, she would recommend products to ease the person's scratchy throat or stuffy nose. Alexa would also listen for emotional cues such as crying, or a flat voice indicating boredom and make suggestions to soothe or entertain.
Granted, a lot of patents are filed, and few are chosen. Last year alone, Amazon also requested patents for an underground package delivery network, a delivery drone that responds to a human jumping up and down and yelling at it, and wristbands that track its employees' every move – and that's just a sample of a long list.
No one's saying (yet) that it's a great idea to diagnose someone over a smart speaker. But having Alexa clue into the fact that we might be buried under used tissues and too weak to get up and make tea makes her seem more like a friend than AI.
If it happens.
Meanwhile, some of the country's leaders in health care, a sector worth $3.5-trillion, are exploring and assessing ways to help people get medical information and a smoother recovery from illness or surgery. They're connecting medical experts to patients via Voice First technology. They're also attempting to define and harness all the opportunities in a marriage between health and voice. They'll discuss innovations and applications during the second voice-first summit on health care this summer. 
Boston Children's Hospital was among the first to turn Alexa into a medical assistant. Their KidMD™ skill, launched in 2016, gives worried parents an immediate consultation on their child's symptoms, answers about common drugs and other typical concerns. The hospital has also been using the Echo within its units, speeding up communication about medications and more quickly locating a medical device within the building, to get it to where it's needed.
The biggest barrier to true interaction about an individual's health concerns is now resolved. At issue was Alexa's compliance with HIPAA (Health Insurance Portability and Accountability Act of 1996). HIPAA was enacted to protect people's sensitive information that's shared with a health care entity, such as a hospital. Now that Amazon is HIPAA compliant, the company can sign agreements and work on developing new Skills with health care partners.
For example, Boston's Children's Hospital has a new Skill, ERAS (Enhanced Recovery After Surgery), that can call up medical histories of patients. A heart surgeon who operated on a child can check with the patient or their parent at their bedside, for reports of symptoms, pain levels and more, and answer specific questions.
Mayo Clinic was another early entrant into Voice First for health. It began with its award-winning First Aid skill, named Skill of the Year for Healthcare at the 2019 Alexa Conference held in Chattanooga, Tennessee in January. The First Aid skill offers hands-free instructions for self-care in non-emergency situations. Now, Mayo Clinic conducts some patient follow-ups with the Echo.
A couple of years ago, New York-based Northwell Health in New York incorporated the Amazon Echo into their hospital infrastructure. It includes 23 hospitals and more than 700 clinics. Users of the organizations Skill can get real-time ER wait times at 50 emergency and urgent care centers.
Cedars Sinai in Los Angeles installed Echos in 100 patient rooms.  This pilot project aims to give bed-bound patients some independence and streamline their requests so they go directly to the person who can help them. No more calling a nurse away from more important things just to fiddle with the patient's television. Alexa oversees that, too.
Health care providers are excited about the possibilities. In addition to catching your sniffles, various studies are under way to determine the viability of voice-first technology for picking up on heart problems, identifying setbacks for those with various oral cancers and catching early signs of some chronic neurological conditions such as Parkinson's Disease. Alexa isn't about to replace your doctor but she's already empowering them and you, when it comes to managing and monitoring your health.