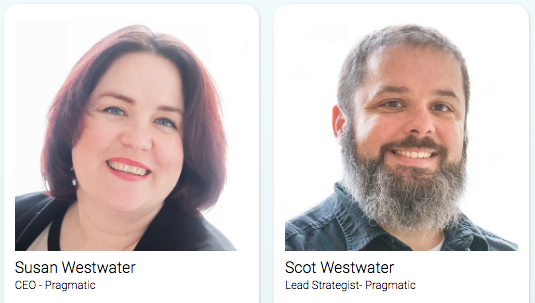 July 5, 2019
By Lisa Brandt (Voice Artist & Blogger at Witlingo)
---
This interview with Susan and Scot Westwater, founders and principals at Pragmatic Digital, a digital consultancy focused on improving customer experience, is the first in our newly launched monthly "Witty Interview" series.  Once a month,  we will publish an interview with leaders and innovators in their respective fields who are coming at the Voice First world from their own special angle and perspective.  
Background: After 20 years in advertising and marketing working with fortune 500 companies, Susan and Scot Westwater co-founded Pragmatic Digital. They cohost the podcast Pragmatic Talk, where they share insights on how to navigate the digital landscape. Today, they're answering a few questions about using Voice First for business, and the best way to go about it.
Q:  We know that smart speakers are selling like crazy and people of all ages are using them. Why do you think some decision-makers are hesitant about getting into Voice?
Susan and Scot Westwater: In talking with prospects and clients, there are several factors holding decision makers back from getting started with Voice.
1.  Understanding/Education: Most brand managers we have talked to are aware of Voice and its value. Unfortunately, they don't have a clear line of vision or understanding of how Voice can impact their specific needs or even how to get started. There isn't a lot of education available when it comes to non-developer resources (understandable, knowing where Voice is now) so it's daunting.
2. Resources: Many Product and Marketing teams, even those in large organizations, are running on lean resources that are already overwhelmed with their existing channels and projects. Coupled with diminishing budgets, the prospect of adding yet another channel and tactics is a lot to ask. They need to do more with less which is something Voice can help with, but they have yet to understand how. 
The other challenge is that often this year's budgets were planned last summer so there simply aren't any available funds to support a Voice project. With planning season upon us, it's important for brands to start earmarking funding for Voice so they don't get left behind as consumers continue to adopt devices.   
3. Lack of Case Studies Proving ROI:  As with any emerging technology, there are a limited number of successful case studies available. Because of budget constraints, the risk of diverting funds to a technology that is perceived as unproven is even greater. In some companies, that risk not delivering a big enough reward can cost someone their job.
We have a tremendous amount of empathy for these people and have tried to help them learn enough about Voice to build the business case needed to get those conversations started internally.
Q: Will creating a voice-first presence reduce the need for a business to invest in other technologies?
S & S: Voice is a powerful new channel that will help brands build relationships with their  audiences  in ways that weren't previously possible. That said, Voice is one of many channels that a business has in its toolbox to engage with that audience. All of a business's communication channels (print, website, social, email, etc.) need to be marching in the same direction for maximum effectiveness. They also need to be focused on delivering against their audience's needs and tasks versus being disruptive or focused only on what a brand wants to say.

Because Voice is essentially a new channel, it is not "one size fits all", so it's critical to identify the touch points along the consumer journey where Voice can make largest improvement on their experience. For some brands that might be in the awareness phase, for others on boarding after purchase. It's important that brands understand their audience's information needs and challenges to create experiences that help them continue to move forward in their journey.
Over time,  it's predicted Voice will become the preferred method for input in digital devices and will diminish the role of other technologies (like how websites and mobile have driven change). We're just not there yet but we will be in the next 5-7 years.
Q: Please share some of the advantages of using Voice.
S & S: Being able to quickly find credible information is huge benefit. Voice allows quick access to information because of the specific ways a user can ask for it.  When a company accomplishes that quick access to information or ability to complete a task, it provides a positive experience with their brand for that user.
Voice lowers the literacy requirement to get access to the information. You don't need to know how to spell or read and you have equal access to information. Ask any 5-year-old about their favorite topic and it's likely they have found information on YouTube or the web using Voice search.
The Voice technology that we're creating right now really isn't for us, it's for the generations that come after us. We owe it to those future generations to get this right.
Q: A business owner remarked to me that no matter what kind of computer you use, you can reach the same, single website. He's concerned that it will cost him more, in time and money, to make his voice skill available on various platforms. Can you address that?
S & S: The aim of a good Voice experience should be to provide the right content to the right person at the right time. If we as an industry adopt a "native experience" approach like the early days of the iOS and Android it will be more difficult and more costly. Thankfully we learned from those early days of iOS and Android development and there are platforms like Witlingo. Rather than worry about developing for one environment or another, you focus your efforts on creating, approving and deploying your content to their Voice CMS and it pushes the content to Alexa and Google Home.
---
Susan and Scot Westwater will be speaking at Voice Summit, July 22-25, 2019 in Newark, NJ. For more information about them, visit their website: https://www.pragmatic.digital/