1. What is Buildlingo and why should I get it?
Buildlingo enables you to create and maintain a voice experience on Amazon Alexa and Google Assistant by just recording audio clips on a mobile App or uploading MP3s online. In addition, you will have access to a Witlingo Web portal that will enable you to track how your Amazon Alexa skill/Google Assistant action (henceforth "Voice Portal") is being used by your end customers, what they are asking for, and how effective the assistant is in answering user questions.
2. What are people using Buildlingo for?
Here are some ways companies and organizations are using Buildlingo:
| Content Providers | Users | Example |
| --- | --- | --- |
| Customer Care Providers | Customers | Customers simply ask their Amazon Alexa or Google Assistant a question and get an answer. The skill/action would focus on the most frequently asked questions whose answers can be delivers by voice. |
| Schools | Parents and Students | Rather than dig through email, scour the web site, poke at the school's Facebook page or twitter feed, why not just ask: "When is the next girls' basketball team" and get an answer. How about getting a notification that school is opening 2 hours late without having to even look at your phone? |
| Event Organizers | Event Participants | Buildlingo is perfect for helping you share information about your conference or event. What's the venue, who is talking, when is the deadline for submitting a paper, and many other questions can be easily answered by just asking a Buildlingo built skill/action. |
| Publishers | Readers | You are publishing several books a month and you want your readers to be able to quickly know what's new and what's hot. |
| Digital Marketers | Business Prospects/Customer | Keep your customers and your prospect interacting with your brand. What is easier and more compelling than literally speaking and interacting with those interested in your products and services? |
| Political Organizations | Voters and supporters and potential supporters | When is the next rally taking place; where do you stand on the key issues of the day? How can you volunteer to help the cause? |
| Residential Community Coordinators | Members of the residential community | Keep your community informed by providing them with quick answers to the questions that they will ask: when is trash day, what are the swimming pool hours, what's the phone number of the towing company, etc. |
3. What do I need to do to get Buildlingo?
To deploy your brand's Buildlingo-powered voice portal, first download the Buildlingo mobile app by Witlingo, available on both iOS and Android.
Second, record and publish your audio content using the Buildlingo mobile app or by uploading MP3s into the web portal.
Next, contact Witlingo, and they will work with you to launch your voice portal.
For more details on how to engage with Witlingo, please go to: www.witlingo.com/buildlingo or email us at contact@witlingo.com
5. We already have an FAQ page. Why should we get a voice portal?
Asking Amazon Alexa or Google assistant a question by just speaking is easier and requires a lot less effort than opening a laptop and going to a web site, firing up a mobile App (after downloading it), or even texting. An Amazon Alexa skill or a Google Assistant action are a perfect first resort channels for getting quick answers to quick questions, given that the effort of trying is minimal.
6. Why Should I Use Buildlingo Versus Just Making My Own Alexa Skill Or Google Action, If I Have Access To An Internal Developer?
With Buildlingo, a fully working, business grade, Amazon Alexa skill/Google Assistant action can be deployed within a matter of days — sometimes as fast as 48 hours. No coding is involved: you simply record audio from a mobile App and the rest is taken care of by Witlingo. In addition, Buildlingo comes with a web portal that not only gives you visibility into your skill/action but lets you augment and enhance your library of audio answers by uploading MP3s. In contrast, to deliver something similar to what Buildlingo delivers will require you to pull your designers, developers, testers from doing what they are doing, and assign someone to monitor and maintain your skill/action and your portal. At an entry level set up price of $1,000 and a hosting fee of $500/month, Buildlingo is the most affordable and least disruptive way to deliver a skill that helps your customers with answers about your products and services.
7. What can I do with the Buildlingo mobile App?
With the Buildlingo mobile app, you can record audio content snippets of up to 77 seconds and designate which snippets are control prompts and which ones are content prompts. Control prompts are those prompts that help users move through the dialog: Greeting, Main, Help, Error, and Goodbye. Content prompts are the ones that provide answers to questions that the user may have. Find out more about the Buildlingo mobile app here: https://youtu.be/V5Qnbfit2qE
8. What Can I Do With The Web Portal?
With the Web Portal, you will be able to view analytics about the skill/action, discover what your customers are asking for, see how accurate the skill/action is with the answers it provides, and tune your skill/action by tagging your audio for more accurate mapping between what the user asks for and what the system responds with. For easy visualization, you will be able to view a Word Cloud that displays the most popular keywords that users are speaking to your skill/action.
In addition, using your portal, you will be able to send outbound notifications to your customers, enabling you to proactively engage with your customers.
For a demo of the Web Portal, go to: https://youtu.be/PjhcpNvhZuE
9. How does Witlingo help me publicize my voice portal?
Right now, we offer a complimentary service for our customers by creating promotional visuals that can be added to their social profiles or websites. Once your Buildlingo skill goes Live, we will create a custom image that shows the invocation phrase of the skill/action, or the phrase that your users can use to launch the skill/action. See below for an example of Roqos's promotional speech bubble image.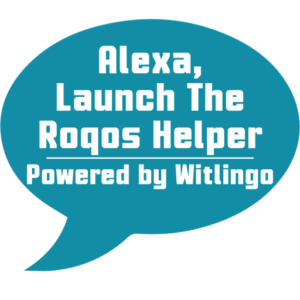 10. After Launching The Voice Portal, How Will Witlingo Continue To Support Me?
We provide support throughout all stages of the process (pre-launch and post-launch). Once the skill is launched, we help you understand the various analytics you can access from your portal to tune your answers so they better address your customers' questions. We also provide custom promotional images that fit your brand, which can be added to social channels and web pages, to alert your customers to the existence of your Amazon Alexa skill/Google Assistant action.
11. What is Outbound notifications?
The Outbound notifications feature can be used by you to send message to your users that are delivered to your users' Amazon Echo device or Google Assistant surfaces.
12. Can Witlingo help me if I want to record my content using a voice talent?
Yes. We would be happy to have our voice talents record posts regularly for your team. The cost per post would be between $5-$15, depending on the post's length. Posts less than 30 seconds cost $5, posts between 30 and 60 seconds cost $10, and posts above 60 seconds cost $15.