---
1. What is The Witlingo CMS?
The Witlingo CMS is a Content Management System for delivering Voice First experiences.   It is designed to be highly usable by the business manager — i.e., the one who best understands the value that they want to deliver.   If you can manage a Youtube channel, a Twitter Feed, a Facebook page, then you can manage your Voice First channel.  The Witlingo CMS enables you focus on the experiences and abstracts away the details of the technology that delivers those experiences.
---
2. What type of Voice First experiences have been launched using The Witlingo CMS?
Here are some ways companies and organizations are using the Witlingo CMS:
| Content Providers | Users | Example |
| --- | --- | --- |
| Customer Care Providers | Customers | Customers simply ask their Amazon Alexa or Google Assistant a question and get an answer. The skill/action would focus on the most frequently asked questions whose answers can be delivers by voice.  Find out more here. |
| Podcasters | Listeners | Podcasters enable their listeners to participate and engage in a conversation by posting audio into their Voice First channel. Find out more here. |
| Schools | Parents and Students | Rather than dig through email, scour the web site, poke at the school's Facebook page or twitter feed, why not just ask: "When is the next girls' basketball team" and get an answer. How about getting a notification that school is opening 2 hours late without having to even look at your phone?  Find out more here. |
| Event Organizers | Event Participants | Witlingo is perfect for helping you share information about your conference or event. What's the venue, who is talking, when is the deadline for submitting a paper, and many other questions can be easily answered by just asking a Witlingo built skill/action.  Find out more here. |
| Publishers | Readers | You are publishing several books a month and you want your readers to be able to quickly know what's new and what's hot. |
| Digital Marketers | Business Prospects/Customer | Keep your customers and your prospect interacting with your brand. What is easier and more compelling than literally speaking and interacting with those interested in your products and services? |
| Political Organizations | Voters and supporters and potential supporters | When is the next rally taking place; where do you stand on the key issues of the day? How can you volunteer to help the cause? Find out more here. |
| Residential Community Coordinators | Members of the residential community | Keep your community informed by providing them with quick answers to the questions that they will ask: when is trash day, what are the swimming pool hours, what's the phone number of the towing company, etc. |
---
3. How much will it cost me?
Pricing is available here.
---
4. How fast can I publish an Amazon Alexa skill/Google Assistant action?
We have had clients who have gone from zero to fully publised Amazon Alexa skill and Google Assistant actions in a matter of hours.  Generally, we promise 2-3 business days from the time a Witlingo built Amazon Alexa skill/Google Assistant action has been submitted to its final certification.
---
5. What do I need to do to launch a Voice First Channel?
To deploy your brand's Voice First channel, first download the Witlingo mobile app, available on both iOS an Android.
Second, record your audio content using the Witlingo mobile app or by uploading MP3s into the web portal.
Next, contact Witlingo, and we will work with you to launch your Voice First  channel.
For more details on how to engage with Witlingo, please go to: www.witlingo.com/buildlingo or email us at contact@witlingo.com
---
6. What can I do with the Witlingo mobile App?
With the Witlingo mobile app, you can record audio content snippets of up to 77 seconds and designate which snippets are control prompts and which ones are content prompts. Control prompts are those prompts that help users move through the dialog: Greeting, Main, Help, Error, and Goodbye. Content prompts are the ones that provide answers to questions that the user may have. Find out more about the Witlingo mobile app here: https://youtu.be/V5Qnbfit2qE
---
7. What kind of Analytics am I able to see?
We provide the following metrics:
| | |
| --- | --- |
| Total Invocations | An invocation is the action of a user say, for instance, "Alexa, launch The Motley Fool."  This histogram shows you the total number of invicocations your voice first channel received over time. |
| Users | A user is someone who invokes your channel.  This histogram shows you the number of unique users invoked your channel, how many among them are new users and how many are repeat users. |
| Average Number Of Transactions/Session | A "transaction" is a conversational turn, and a "session" is a converation that starts upon invocation and ends whe the experience ends.  So, for example, if the channel is an FAQ channel and the user asked 3 questions and then said Goodbye, the session would have concisted of 4 transactions (the 3 questions and the Goodbye).  This histogram gives you the average number of transactions/session over a period of time, providing you with a sense of how engaged are users with your channel. |
| Out Of Scope Events | When the user says something that the channel doesn't know what to do, we say that the user asked for something that is Out of Scope.  This histogram shows you the total number of Out of Scope occurences over time. |
| Average Session Length | A session is the time between the invocation and the end of the interaction between the user and the channel.  This histogram gives you the average length sessions across time.  The longer the sessions in general, the more engaged your customers are with your channel. |
| Exit Types | How did your users exit: did they explicitly stop the session or did it stop because of errors.  This histogram give you a sense of whether your customers are exiting willingly or because of errors (for instance, they didn't say anything because they were confused). |
---
8. What are Outbound notifications?
With the Witlingo CMS, you can easily send outbound notifications to anyone who has enabled your Alexa skill or Google action and opted to receive Outbound notifications from your skill/action.  For more on Outbound notifications, go here.
---
9. What is the Discovery feature?
In your CMS web portal you will be able to view exactly what your customers said when they interacted with your skill/action/caspsule.  You will see a transcription of what they said along with what the skill/action/capsule did in reaction.  Here's a screenshot of the discovery page:
---
10. Can I monetize my the Alexa Amazon skills that I build using the Witlingo CMS?
Yes!  Witlingo will work with you to help you select which monetization mechanism to implement and deploy for your skill.  Note that this feature is available only for the Unlimited tier.
---
11. Do Alexa skills built using the Witlingo CMS use Skill Connections?
Yes. Alexa skills built using Buildligo are outof the box configured to leverage Alexa Skill Connections.
---
12. Do Alexa skills built using the Witlingo CMS use the CanFullfillIntentRequest for better skill surfacing?
Yes. All Amazon Alexa skills built using the Witlingo CMS take advantage of the CanFullfillIntentRequest feature to enhance contextually informed skill discoverability.  The Witlingo team willl work with the customer to understand the doman and the language that is most relevant for that domen to ensure that the skill takes optimal advantage of Alexa's CanFullfillIntentRequest capabilities.
---
13. I want to show visuals along with the audio played.  Does the CMS let me do that?
Yes.  Associating visuals to an audio is as simpe as uploading an image file and associating it to the audio file you want to play.
---
14. What does it mean for my listeners to be able to post audio onto my Voice First channel?
With Witlingo, your Voice First channel doesn't have to be a one-way voice experience for you users.  In addition to navigating and listening to your content, your users can also contribute to it and post their own audio content that you and other users can listen to.  To see how this is done, go here.
---
15. What is a Voice First Board?
When your users post an audio onto your channel, that audio can be available via an Amazon Alexa skill or a Google Assistant action, but can also be listed to via the web on a web page.  To list the audios posted onto your channel, all you need to do is grab the embed code that is provided to you from the Settings page in your Buildling account.  Examples of what a Voice First Board looks like can be found here and here.
---
16. How does Witlingo help me publicize my Voice First channel?
Right now, we offer a complimentary service for our customers by creating promotional visuals that can be added to their social profiles or websites. Once your skill goes Live, we will create a custom image that shows the invocation phrase of the skill/action, or the phrase that your users can use to launch the skill/action. See below for an example of Roqos's promotional speech bubble image.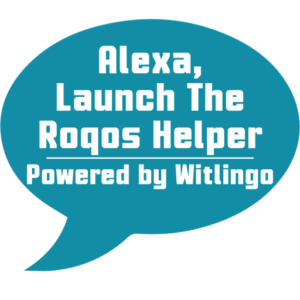 ---
17. After launching my Alexa skill/Gooogle Assistant action, how will Witlingo continue to support me?
Witlingo is a Software as a Service (SaaS) company and therefore Service is central to our relationship with our customers.  We provide support throughout all stages of the process (pre-launch and post-launch). Once the skill/action is launched, we help you understand the various analytics you can access from your web portal to tune your answers so they better address your customers' questions.