According to comscore, by the year 2020, 50% of all searches will be done by voice!  
Here's another stat: Voice shopping markets are predicted to grow from $2 billion today to a  massive $40 billion by 2022!
All indications are indeed pointing to speech becoming the new search bar. Voice is clearly emerging as The New Channel of First Resort!
Whether on Alexa, Google, Cortana, Bixby, or Siri, people are quickly becoming comfortable with fetching information and transacting by just speaking to a voice assistant, so what we are witnessing is nothing short of the emergence of The Voice First Web.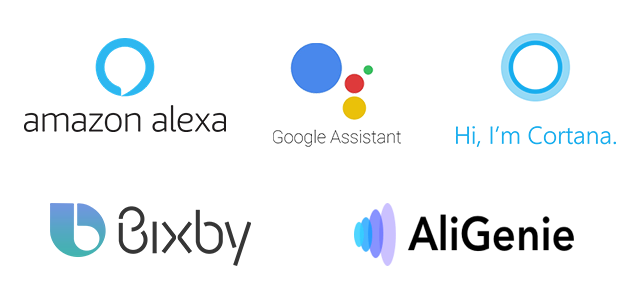 And just like the visual and text based web that we have come to rely on for our personal and professional needs, the Voice First Web is rapidly emerging as a new formidable channel for looking up information and executing transactions.
And indeed just like with the traditional web, those who have launched or will launch their presence early will begin to plant and build their Voice SEO roots so that their content and their brand is served first before that of competitors who were late to reacting to the arrival of the Voice First Web.
How about you: what are you doing to optimize your brand presence for voice search?  Do you have an Amazon Alexa skill? A Google Assistant action? Are you on Cortana or Bixby?  If not, now is the time is to start building.
To find out more, please drop us a line by filling out the form below.
---
| Pricing | Basic | Premium | Unlimited |
| --- | --- | --- | --- |
| Setup Fee (1 platform) | $1,000 | $3,500 | $5,000 |
| Set up fee per additional platform | $500 | $750 | $2,000 |
| Monthly Fee (1 platform) | $500 | $750 | $2,000 |
| Monthly Fee per additional platform | $250 | $375 | $1,000 |
| Features | Basic | Premium | Unlimited |
| --- | --- | --- | --- |
| Flash Briefing | Yes | Yes | Yes |
| Web Portal Analytics | Yes | Yes | Yes |
| Ability to see what users are asking | Yes | Yes | Yes |
| Ability to post audios directly from Witlingo mobile App | Yes | Yes | Yes |
| Word Cloud Visualization of incoming requests | Yes | Yes | Yes |
| Ability of users to receive texts from skill | Yes | Yes | Yes |
| Ability to associate images with audio | Yes | Yes | Yes |
| Ability for users to leave voice messages | No | Yes | Yes |
| Surfacing skills/actions in Alexa/Google searches | No | No | Yes |
| Outbound Notifications | No | No | Yes |
---