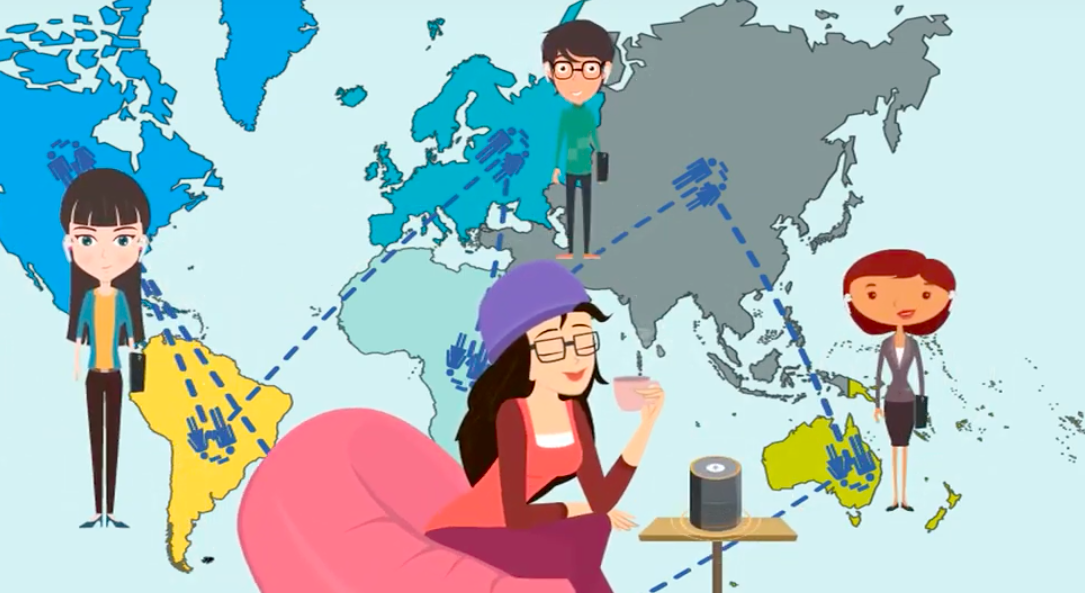 August 25, 2019
By Lisa Brandt (Voice Artist & Blogger at Witlingo)
---
After the debut of the hilarious TV series, Last Man on Earth, I tweeted my support to the show's creator and star, Will Forte. The sitcom ceased production in 2018. It was the first and only time I went all fangirl to someone on social media. To my surprise and delight, Forte tweeted back to me, using my name and responding directly to my comment. It gave me a momentary connection and thrill.
Now, thanks to a couple of terrific products from Witlingo, Forte and I could have a real conversation about the show, which would give me a connection and a thrill that lasts much longer than a moment. And it would give Forte an opportunity to broaden his fan base while simply talking. It turns what used to be a one-way voice update into a two-way conversation, multiplied many times over.
Witlingo's Product Lead, Brielle Nikoloff, revealed this innovation recently at Voice Summit 2019, where more than 450 other voice-first experts spoke to thousands of attendees. The annual gathering on the campus of the New Jersey Institute of Technology continues to grow exponentially, and pre-registration is now open for 2020. It's the place to be to make connections in the Voice First world.
As Brielle explained to the conference audience, Witlingo envisions the Internet becoming truly Voice First. Instead of relying on static pictures and flat text, we'd all talk to each other. How many times have you misunderstood the text in an email because you couldn't ascertain its writer's inflection? Was it serious, sarcastic, or what? The voice -– the beautiful, melodic and multi-toned voice –- is what brings words to life and gives them meaning beyond the Webster's definition. Receiving information by voice also leaves your hands and eyes available for other things. Sharing and trading information with your voice – a conversation – brings us closer.
It's never been as easy and intuitive to have that conversation with your community, subscribers, fans or members, until now.
Here's how Witlingo Communities work.
Let's use Will Forte as an example. Will simply uses the Wiltingo app to update his fans on his series, his public appearances, his thoughts on various subjects and whatever else he wants. He can solicit feedback on the plausibility or likability of a potential storyline or character. He can ask for restaurant recommendations for an upcoming trip to an unfamiliar city. The opportunities are endless. Those audios would be posted for fans to access via Amazon Alexa and Google Assistants
In turn, fans use Witlingo's mobile app and post audios to Will's channel, asking questions, making comments and discussing Will's body of work. Again, the content is theirs to define. If I were to post an audio to the not-yet-available Will Forte Channel via Witlingo, I'd declare my love for his Saturday Night Live character, The Falconer, and the wonderfully dark, ridiculous premise of a bird expert regularly being outwitted by his bird. I'd like to know where the idea came from that Donald, the falcon, would be the brains of the duo while The Falconer always ended up in peril. What's the back story? Does Donald simply wish to be free, or does he get some sort of bird-like enjoyment from outsmarting his keeper? As you can see, I've thought a lot about this recurring SNL sketch from the early 2000s. If that makes me a comedy geek, well, I'll wear that label with pride.
You don't have to be as famous as Will Forte to use this technology. You could be the pastor of a church, an indie author, a musician, athlete, writer, or anyone else with a following or a desire to build a community. It's incredibly easy. You just speak, and people who are interested in you, your group or topic, respond in kind.
The ease of use is obvious. The applications are endless. Politicians find it simpler to converse with potential voters. They're not asking people to drop everything at a certain time or miss out on gathering information on their policies before an election. It's as user friendly as it gets, on demand, at a time of their choosing.
To learn about the way this skill duo could work for you, visit HERE.
And Will Forte, if you're interested, get in touch! I can't wait to get inside your, and Donald's, heads.